News and Events
DAIS ski camp at Les elfes, Verbier, Switzerland
Click Here
Gothia Cup football tournament at Gothenburg (Sweden) 2013
Click Here
Non - Sporting

Students are selected to participate in the core activity groups based on aptitude, effort and commitment. Participation in core activity groups is voluntary but students are expected to commit to regular attendance. Participation in core activity groups would entail students spending extra hours of practice beyond regular school hours.
The 'core' activity groups for non-sporting activities' are Robotics, Indian and Western music (both vocal and instrumental), Dance, Drama and Model United Nations.
Indian Music & Dance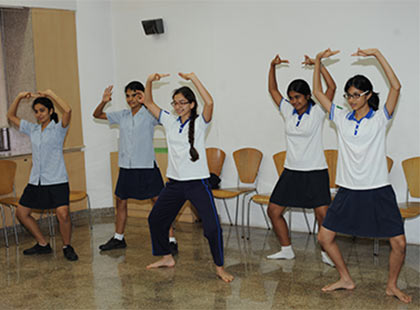 The objective of the 'Dance and Music Club' is to create an exchange of different cultures related to dance across India. The aim is to learn different dances, understand the music of each kind of dance, appreciate every form and learn to choreograph our own pieces, using the required skills.
Western Music Vocal & Instrumental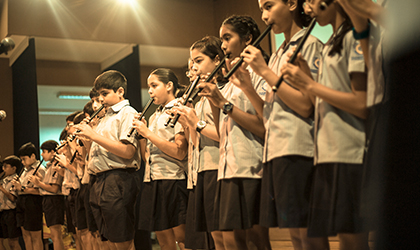 Learning to play an instrument involves much more than the voice or fingers playing an instrument; it taps into multiple skill sets, teaches one to be organized, enhances perseverance and coordination as well as a host of other benefits.
Robotics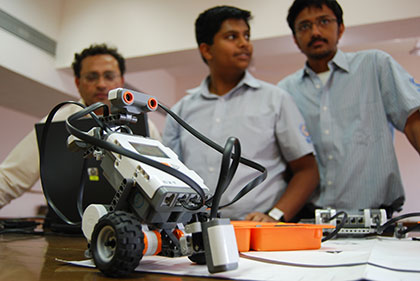 The Robotics club is an ongoing Co-curricular and core activity led by students and supervised by dedicated professionals and science teachers. In 2013, we started the academic robotics programme as a core activity for interested students. Here the students are prepared on three different modules for a dedicated 60 hours per year. This would prepare them to participate in several robotics Olympiads and encourage self- learning while also staying in touch with the growing technical knowledge in the field. School provides these students with a number of kits and the activity is very popular among all secondary school students even if they are not too inclined towards the sciences.

Model United Nations
Pathway MUN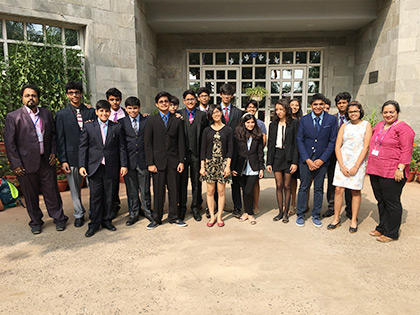 The moment the Secretary General of the Conference struck the gavel on the podium, indicating the beginning of the conference, was when I realized what was expected of me, of US. Of all of us. As delegates representing the school, there was a lot of pressure and expectation that we had to shoulder, but I think the great thirst to prove ourselves helped us handle everything to the best we could. It was my first MUN conference, and I was terrified. But I was ready. Each one of us was prepared for any adversity that may come our way. However, what we were not prepared for, was the incredible time we had at this conference. Pathways World School is inordinately beautiful, with an amphitheater modeled on the Coliseum, adorned with an ultramarine and turquoise fountain, various lawns, greenery as far as the eye could see, complete with the most hospitable and friendly students possible. We were assured every comfort by everyone involved in the conference, be it the International Press in charge of the conference, or fellow delegates.
In committee, each and every delegate had something very important to say, and our Chair was benevolent and did his very best to recognize every delegate in the committee. In DISEC, the Disarmament and Security Committee, there were 100 delegates, and each and every one of us applied our minds and our abilities to reach a solution as to the downfall of Boko Haram. Considering terrorism is one of this century's greatest dangers, it was imperative that we come to an answer as to how to combat it.
Outside committee, each one of us had a delightful time, when we visited the mall and at the delegate dance. In a flash, the conference came to an end. The awards were distributed, our bags were packed and we said our goodbyes to all the other delegates, from all the country, with whom we had made friends. The Secretary General struck the gavel once more, indicating the conclusion of the Conference, and I knew that I would take home with me, not just my award, but memories of an absolutely marvelous time.
MAIA BEDI
8A