"Fue una experiencia nueva y divertida" Berta Echegoyen -The Spanish Exchange Program 2015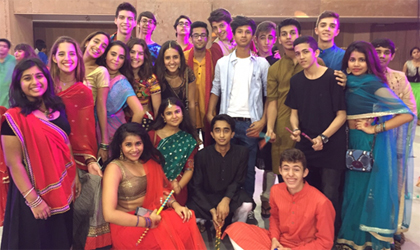 As tradition demands, the guests were greeted at the international airport with golden yellow marigold garlands and smeared tikkas. Of course, what truly assured them that they were in India was the heat and the humidity.
"En India hay mucho heat me cago en"
Delfie Elchavvaria
They toured the city while we, the DAIS students, studied in school, visiting Colaba Causeway, the Elaphanta Caves and Dhobi Ghaat amongst other nooks and crannies of Mumbai. Sweaty and exhausted, when they returned to their hosts' houses, they were treated to another round of activities: from celebrating Navratri with Dandiya Raas to partying with the students (an international activity, so it seems).
While the girls bonded over Bollywood dances and movies, with the occasional dress-up in a sari/ lehnga, the boys bonded over (obviously) FIFA. Lots and lots of FIFA. Henna was necessary, they declared, as were trinkets that depicted elephants.
"Nos impresiono mucho la cultura"
Sara Reymundo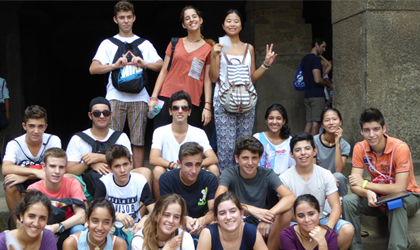 Over the course of ten days, all twenty Spaniards were acquainted with Hindi phrases , 'spicy Indian' food and lots of traffic. And lots of people. They had never seen so many people in one place before.
"Aprendimos mucho Hindi"
Alberto Diaz
"Puris… lo mejor"
Lucia Sanchez
The exchange students saw one side of life in India, the life we lead. Comfortable lives. But, they also got a glimpse of the life led opposite the row of offices in BKC. Lives stricken by abject poverty. Most exchange students found that the time they spent volunteering at various NGOs in Mumbai was the most rewarding. While they may have made friends with the Indian students and enjoyed pursuing exciting activities with them, the service activities made them truly grateful.
"Fue en viaje inolvidable con una gente muy buena"
Nico Linares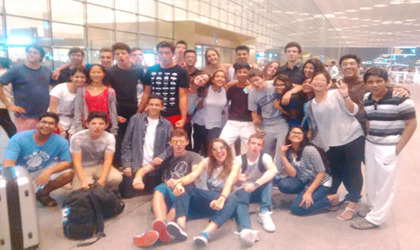 By Sanya Dalal - Std.11
Next June, the DAIS students will visit Madrid. We can't wait to meet our friends again. Also, we want to know are ¿los españoles son los mejores? Let's see!