Class Trip 9 B & C Educational Trip to Jamnagar 2014
Essay on the class trip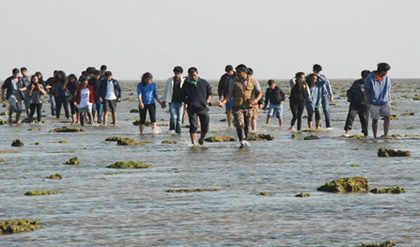 Our New Year started off with amusing train rides, delicious food and probably one of the best class trips. While it was going to be our second time in Jamnagar for the most of us, our excitement remained. As we finished our day of school as restless as we could ever be and departed for the train station the music began to blare and the faces began to smile. On reaching the station we were told that our train had been delayed by two hours while most students would frown and crib we didn't mind, and were up for the challenge. By using our bags as seats and the frequently appearing food stalls as our cafeteria we managed to pass those two hours and soon it was time to get onto the train.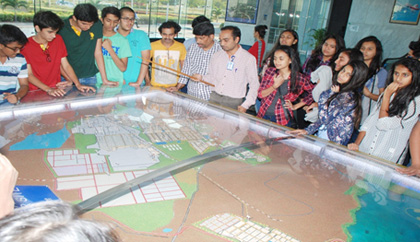 The train journey is one which cannot be described using words since it has always proven to be one of the most memorable parts of Class trips. On reaching Jamnagar we were given around half an hour to freshen up and then given a tour around the humongous reliance refinery, it was an extremely enriching experience as we were told about how the refining process works and also the hardships that reliance had to go through to build the refinery. Following that we returned to the hotel, and we ended our day with an exhilarating football match, finally all of us were exhausted and we slept like logs. Day one of our trip had come to an end and we awaited the next day.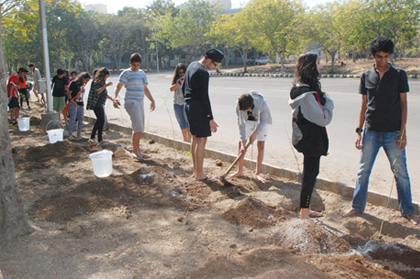 Day 2 started off with a visit to the Marine national park. It was an extremely different experience since we walked in the water itself and encountered different marine animals on the way. We were lucky enough to see an octopus and a crab. It was probably the first time most of us had gotten to see an octopus, which left us speechless.
Following this we visited the green belt and were informed once again about how it was truly a difficult job planting it. We were also given the opportunity to plant out own plants and we were told that the next time we would return they would have grown into tress; all of us looked forward to this. We then visited a breathtakingly beautiful and calm temple, where we prayed and hoped that all our dreams and wishes would be fulfilled. Then we visited the sports centre where we played numerous sports; football, Badminton, table tennis among others it was an evening and day to remember. But the day wasn't over in fact it had only just started we still had our bonfire left. Who doesn't enjoy some music in the background a wide spread of lip smacking food and as the icing to the cake a warm fire in the centre to fight the cold? It was a night we were never going to forget. Our second day had now come to an end.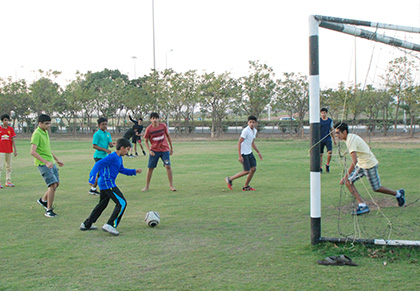 As our third and last day approached our bags were packed and the last place we visited was the jetty it was an educational experience as we were informed about how the unrefined oil is transported to the refinery and how the exporting process takes place.  We returned back to hotel got our bags and were ready to leave. The music stopped and the faces frown it was the end of one of the most memorable trips and none of us were looking forward to being back in Bombay.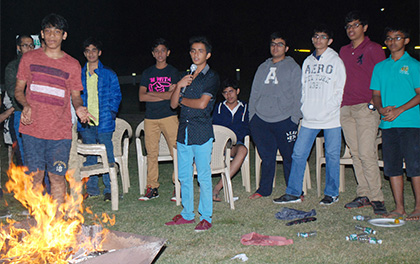 The return journey actually turned out to be quite interesting as we had to privilege of talking to lady called Himja who is originally from Jamnagar and studies Triple engineering in Philadelphia. She was kind enough to share her views on what the local people thought off the refinery. "Jamnagar is known by this refinery and we are extremely proud to have it" she said that the refinery is what Jamnagar is known by and that it has added a lot of value to the city. She also enlightened us on the fact that on earth day reliance was one of the only companies to go around planting trees, and that they had developed Jamnagar a lot. It was truly an enriching experience to talk to her since we got an insight into the way people in Jamnagar feel and what we realised was that the reliance refinery has impacted Jamnagar, but only positively.
By Urshita Vaishnav 9B