CLASS TRIP - 8A
Educatrion Trip to Aurangabad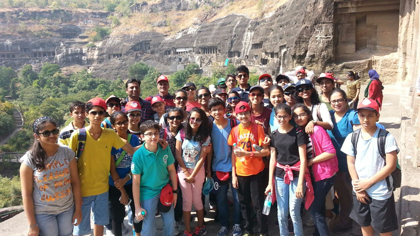 Our class trip to Aurangabad was an enriching experience which amalgamated hard core fun with knowledge. I wonder whether any of us slept the night before our departure; none of us could wait to embark on our journey. We all reached school at 5:30a.m the next morning. We did not have to wait long, and in no time we were aboard our bus and waving goodbye to the school and our parents. The journey was a lot of fun, and we sang, ate, and played all along.
We reached our destination- the VITS Hotel -in the evening, and at night were introduced to our guide for the trip, Mr. Aamod Basolay who announced our programme for the following two days and gave us a briefing on the places we were about to visit.
The next day was a strenuous one. From morning to evening, we were at the Ajanta Caves, which were 100 km from Aurangabad. The fascinating oldest modern paintings and Lethe stories hidden behind them made our visit unforgettable. We also visited the Himroo shawl factory where the speciality of Aurangabad, i.e. beautiful Himroo shawls were being woven with cotton and silk. We garnered a certain respect for the shawls-weavers when we learned that only half a metre took a whole day to weave. We also had a pyjama party cum disco that night. While some danced away merrily, the rest had a joyous time in the Recreation Room playing chess, carom, and pool.
The third day we visited Bibi ka Maqbara, the Daulatabad Fort, Panchakki and the Ellora Caves. Bibi ka Maqbara mesmerised us with its beauty while we found the Daulatabad Fort to be the ultimate protection and barricade against any enemy. The Panchakki was a water mill with ingenious technology and the Ellora Caves, the second World Heritage in India, captivated us with its elegance. It dawned on us that our trip had come to a close. We made the most of our last night in the historical city and left the next day for where we belonged- Home....
This trip was a very illuminating experience for everyone. We learned to look at, not only monuments, but also casual everyday life. We have gathered a certain respect for the builders and architects of these monuments whose names will be written forever on the pages of time. The trip was a fascinating experience for us....moments we will cherish forever.
-Sarah A. Kagzi