CLASS TRIPS
Educatrion Trip to Hyderabad
9TH JAN - 14TH JAN 2013 : 8A, 8B and 8C


After a long and unending wait, finally arrived the day for the 8th standard students to visit the city of Nizams, Hyderabad. My sojourn to the city gave me great experiences, oodles of pictures and fun, and of course, memories unlimited.

After an exciting train journey that transposed us from the concrete jungles of Mumbai, to the resplendent landscapes of the villages of Karnataka and Andhra Pradesh we arrived at our destination and were soon checked into our hotel rooms.

The very same day we were taken to visit the Golconda Fort to give us an insight into the glorious history this city holds. After a guided and informative tour of the fort, we took our seats to view the sound and light show which made the past come alive.
During the days that followed, we visited the Ramoji Film City, the Fundustan Amusement Park, the Sudha Cars Museum, the Salarjung Museum and also the entertaining Snow World.
The high point of this trip was the Ramoji Film City. This Film City has been built upon the war grounds of the Nizams and occupying 1666 acres, is the second largest film city and has produced a large number of Bollywood, Tollywood and Hollywood films. The Fundustan Amusement Park, located in the Ramoji Film City was a lot of fun as we walked though the mouth of a snake, a blackhole and also crossed a mirror maze.
The Salarjung museum amazed us as it made us wonder how one man had collected those innumerable artifacts in one life. Though this was an educational trip, we also had our fair share of fun at the Snow World, which is home to 200 tonnes of artificial snow and with an internal temperature of -5° C, we were sure all our toes were going to fall off! After a tiring day, when we retreated to our hotel rooms, we were called down for a dance session which everyone enjoyed thoroughly.

This trip, apart from enriching our history, gave us an excellent opportunity to bond with our friends. By the end of the journey, we departed home with sweet memories and also with delicious biscuits from the well known Karachi Bakery to relish.
THE MYSTERIOUS   GOLCONDA FORT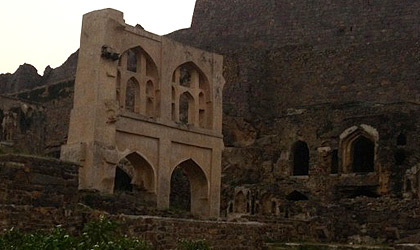 THE FASCINATING RAMOJI STUDIOS