Maharashtra State Under 9 Chess Tournament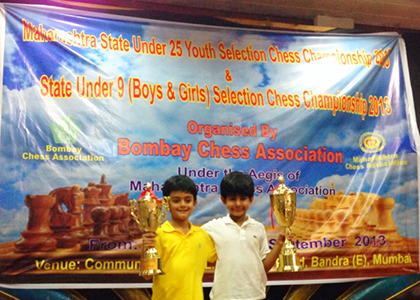 The DAIS school community is delighted with the wonderful performance of Ruhaan Mahindru and Siddhanth Lohia at the Maharasthra State U-9 Chess Tournament! They have once again done our school proud!

Both Ruhaan and Siddhanth are studying at Dhirubhai Ambani International School in Class 2. Ruhaan is 8 years old while Siddhanth is 7 years old.

Ruhaan won the Maharashtra Under 9 State Chess Championship on Monday 30th September 2013, while Siddhanth Lohia won the Runners-Up trophy in a very close competition that fielded 160 boys from around Maharashtra.

Ruhaan will now represent Maharashtra State in the Nationals to be held in Chennai in November 2013.

At the end of 9 rounds, Siddhanth scored 7 wins and 2 draws taking his total score to 8 points, and was tied jointly with Ruhaan who was also on 8 points (out of a potential total of 9).
However, the winner of the tournament was decided through a tie-break (TB) which runs on the basis of the relative performance of all the opponents faced by the two players through the nine rounds (called TB1 in chess parlance). This tie-break was also unable to differentiate the two players, so the organizers removed the weakest two opponents that both boys faced and then compared the scores of their two opponent sets (called TB2).

It was through this mechanism that the two boys were separated and that too by the smallest margin possible of 0.5 points. With this, Ruhaan won the first place trophy and Siddhanth won the Runners-Up.

As per the various coaches who were present at the venue, they all confessed that in their playing careers they had never witnessed such a close finish where TB2 was used to find the winner of the tournament!

We at the school are extremely proud of the achievements of both our students and wish each of them all the success in their future matches.

The proud parents expressed their gratitude towards DAIS and said that they "would like to congratulate the school on this strong performance for Dhirubhai Ambani International School. Having two second grade students win the top two places in an Under-9 chess tournament is a significant achievement, and would have not been possible had the school and all the teachers not been so supportive over the last two years."