Dev Shah Bags Gold at 9th Asian Schools Chess Championship 2013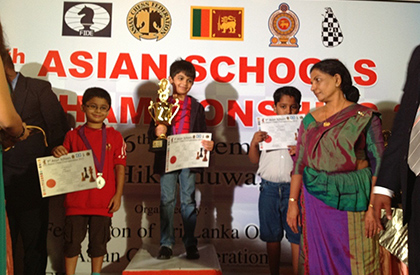 Dev Shah of Std 1 B of DAIS won GOLD MEDAL in Rapid Format, SILVER MEDAL in Blitz Format and secured 6th position in the Classical Format in the 9th Asian Schools Chess Championship 2013 held in Sri Lanka. He was a part of 27 players (Indian team) which participated in various categories in the championship.

Six year old Dev represented DAIS and India in Under 7 Category in 3 formats - Rapid, Blitz and Classical. More than 15 countries across Asia participated in this much coveted Tournament which included players from UAE, Malaysia, Singapore, Korea, Uzbekistan, Kazakhistan ,Sri Lanka, Hong Kong etc.