Seeds of Peace Camp 2018
Introduction:
Seeds of Peace is a leadership development organization founded in 1993 by the famous American journalists John Wallach. As its main program, the organization brings youth and educators from areas of conflict to its camp in Maine. It also provides local programming to support Seeds of Peace graduates once they return home. Its mission is to inspire and cultivate new generations of global leaders in communities divided by conflict by equipping exceptional youth and educators with the skills and relationships they need to accelerate social, economic, and political changes essential for peace.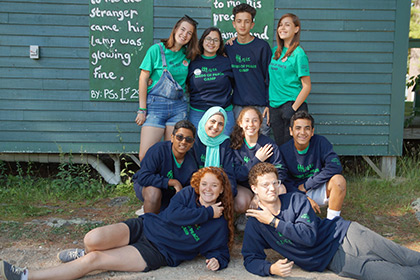 Process:
The camper selection process to attend the Seeds of Peace International Camp in Maine is very competitive and varies by country and program. The schools, community organizations, educators, and graduates of the Seeds of Peace program are involved at various stages of each program's selection process.
Candidates are typically between 14-16 years of age. Seeds of Peace is always in Search for young people who are passionate about their comments, are curious can think critically, have an open minder willing to be challenged and show leadership potential. From more than 100 students who had applied to become seeds, 14 children from schools all around Mumbai were chosen based on an intense interview round. Post this there were a series of pre-camp sessions which trained us to get used to the concept of dialogue and a few concepts of peace and conflict were introduced to us through various activities and games. We were introduced to the 3 programs in the camp which are the Seed program from ages 14 - 17, Paradigm Shifters (P.S) Program (from ages 17-19) and the delegation leaders program (adults). We had 14 seeds, 2 PS's and 2 DL's accompanying us. Camp life starts with the seed program. 28th June, the day we left from T2 terminal in Mumbai for camp. As we reached Maine we had a 3-hour bus ride from Boston to camp. As we entered camp as the first delegation of 2018 to enter camp we were welcomed with drumming and sounds of trumpets with music filling up the cool air, counselors dancing and hugging us and singing seeds of peace songs in front of the beautiful "Pleasant Lake". We were then taken to the dining hall for some lunch and then were sent to our bunks. We were also introduced to our dialogue groups, our table groups (these were people with whom we sat together and ate in a more family-like manner) and our bunks. The next day we were introduced to our hectic schedule which was according to our dialogue groups most of our activities were based on dialogue groups. The schedule would hugely comprise on learning different sports especially American like gaga and one session of dialogue per day. We also had swimming every day in the pleasant lake and exciting water sports.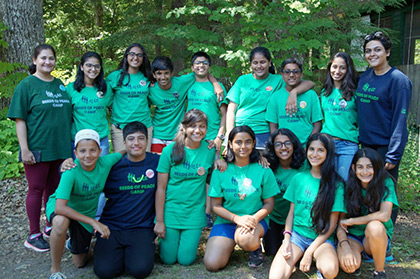 What is Dialogue??
Dialogue is one of the main ideology of Seeds of Peace. The reason behind dialogue is to provide a free space for ideas to be shared without the fear of being judged. There were 2 different types of dialogue at camp. The south Asian dialogue (India, Pakistan, Afghanistan, and Americans) and the Middle Eastern dialogue (Israelis, Palestinians, Egyptians, Jordanians, and Americans). Dialogues are always ruined by facilitators which smoothly run the dialogue using games and activities. A dialogue doesn't have to always be a topic considering global recognition it could also be conflict happening within communities. Dialogue, in the beginning, was very free-flowing but after some time, it does become emotional, as painful experiences are let out. Especially the Middle eastern dialogues as there were people who had their fathers kidnapped by the Israeli army or had horrible experiences living in a refugee camp. Many of them had never seen a lake. Pakistani and Indian dialogues are not only on the Kashmir issue but are also on the day to day situations which we face in our countries. Many topics such as Sexual harassment, Education, history are talked upon in a peaceful manner. It is not all about talking or debating in dialogue but it is all about how you listen and then respond. When you talk you speak what you know but when you listen you learn more.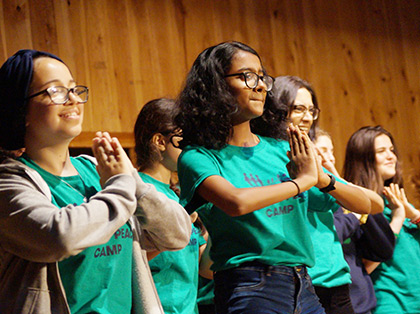 Reflections:
Camp is something which could not be expressed in words for me I could never imagine meeting Pakistanis and they turned out to be one of my best friends. It truly transformed all of the 118 seeds who had attended the camp. It really made me think about how I have been provided with many things in my life but there were many others who had nothing in their hands. My friend from Karachi in Pakistan used to live in an area which was under the Taliban due to which he had to go through depression. His father had lost one of his eyes which led to him working at an early age and leaving education behind to support his familiy. I had a girl on my table who was from Gaza and left 26 days before for attending this camp. Many of us were emotionally and mentally affected but we all met together for peace and love. We were also told about a few brave hearts like Asel Asleh, an Isreali Arab and graduate of the program was killed by Israeli security forces during a demonstration. He was wearing the Seeds of Peace T-shirt at the time of the shooting and was subsequently buried in it. Tears did roll down our faces but there were immediate moments of happiness and togetherness which filled up the gap. Spending 3 and a half weeks with whom we assumed as hostile but turned out just like us, was one of the most life-changing experiences. I have always been studying about the Israel- Palestinian conflict but this time got to see, experience and hear the real-life situations which go on Palestine and the Gaza Strip. I remember in camp I had a Palestinian friend who was born in Florida but came back to Palestine, whereas if we look at Indians they would never want to come back to India despite India not going through any war, this shows the commitment to your country. Midway through camp on a beautiful exhilarating day, the news of Hamas (so-called Palestinian army) had sent missiles to the south of Israel in response to the attack by Israel forces on the Palestinian borders. In this time of sorrow, we all held hands bridging the connection of sorrows and praying to prevent the killing of innocents. But along with it, another news piles up in Pakistan where there was a bombing by the Taliban. As the situations kept on piling on, it felt as if the whole camp had fallen into sadness but then our counselors never let us fall down due to the sorrow back at our homes. One thing that we were told since the beginning that we always had to "Trust the process." When I started trusting the process, I enjoyed it to the utmost. As the last week of camp comes we began with color games. Basically, there are 2 teams Green team and the Blue team. I was in the Green team. One of the most highlighting moments of the color games was on the last day which is called Hajime. It is basically a relay in which there are different stations and there are people from each team stationed. They have to perform the assigned job as fast as possible for the team to win. I had to bowl 3 cricket balls, which I knew how to but could not perfectly do it compared to the other person in the Blue team who was a Pakistani and very well knew how to ball. My bunk friend Mohammed Ali Haris came to my aid as he taught me how to ball until perfection and finally when the time came I could perfectly throw 3 balls. This is one of the best moments I always remember from camp. When it was the time to put an end to such beautiful experiences, it just becomes hard to get out of it. I was never so sad when I left my parents, but when I left camp I could never stop my tears thinking will I ever be able to meet all 118 again??
But one quote kept on going in my mind that "I am a Seed of Peace"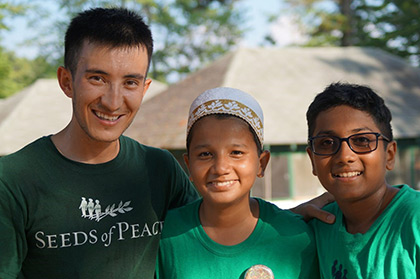 - Ishaan Shetty, 9C