THE 15TH ANNUAL ATHELETIC MEET
Let the Games Begin

A throng of people gathered in the vast field at the Dhirubhai Ambani International School for the 15THAnnual Athletic Meet, on 19th January 2018. This day is always exciting, as sports is considered a vital part of our daily routine. The sports day began with the March Past. After a quick inspection, the squads marched in unison as a cheer went up from the audience.
The houses competed in squads of twenty-seven. Everybody's eyes were fixed intently on the field while the sports teachers gave the commands enthusiastically. The movements were stiff, yet graceful. Everybody was in sync with everyone else. The oath was taken, pledges were made and the races began immediately after the March Past.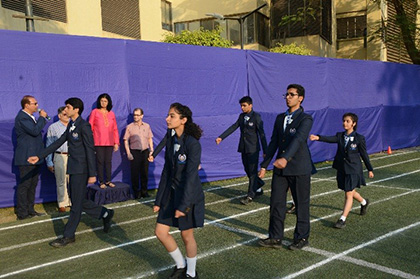 The athletes were agile and swift. Their technique was absolutely brilliant. Medals were distributed and new talents were noticed. The parents commented on how ebullient the students were. They displayed plenty of house spirit. Some painted their faces with the colour of their houses! They had taken time to make attractive posters too. Soon it was time to start with the Tug of War. Participants' hands were snow-white with chalk to ensure a harder grip on the rope.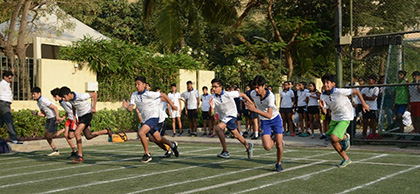 Soon, it was time to announce the results. The March Past results were announced. The parents were waiting in anticipation. One of the parents said that she could not believe how enthusiastic the children were. It was really commendable how the excitement was sustained throughout the sports day!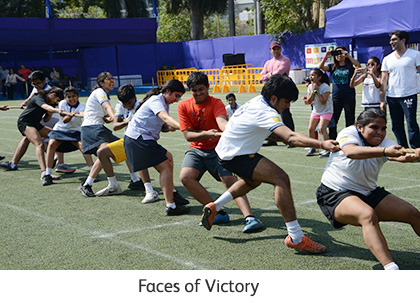 Students huddled up waiting anxiously for the results. Then came the announcement!!! In third place…the Panthers! In second place…the Jaguars! In first place…the Lions! A loud cheer echoed in the ground as the winning house went on a victory lap.
All other houses held their flags and placards up high, in respect and ran around the field, proud and bursting with house spirit.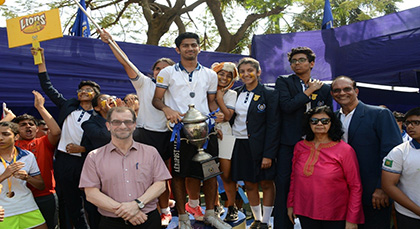 Sports is not just about winning. It is about building interpersonal bonds and often has elements of wishes fulfilled, not to mention elements of camaraderie and above all, participating for the honor of sports, the glory of the game and the spirit of sportsmanship.