Kala Ghoda Art Festival - 2019
The Kala Ghoda Arts Festival, a community exhibition and carnival of the arts, celebrated its 20th year, in the historic precincts of Mumbai.
The Primary Art Core students visited the festival, to view the Visual Arts Installations and other art works. These included the Under 18 Children's Installations by schools and organizations, in which DAIS was also a participant.
After the photo session with the DAIS Installation, the children moved to the Jehangir Art Gallery to view the exhibition 'Drawing Words'.
Drawing Words is an exhibition of contemporary UK children's book illustrations. The exhibition was presented and and organized by the British Council.
After viewing the exhibits, the children attended a workshop by one of the 'Drawing Words' artists, Yasmeen Ismail.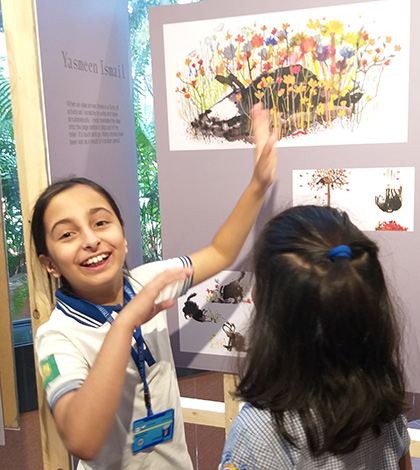 Yasmeen interacted with the children and asked them which illustrations they liked and why.
She spoke to them of her journey through the art world and how she became a full time children's book illustrator.
The children gathered around her and she read out a story from one of her famous books 'Kiki and Bobo'.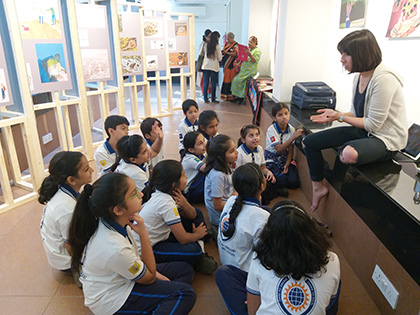 Yasmeen handed out chits of paper to them, on which a feeling/emotion was written. The children came out one by one and enacted that feeling.
In the next activity, she gave them paper and some markers to create their own character. Then they were asked to build a story around the character, describe its emotions, the setting, the conflict and the solution.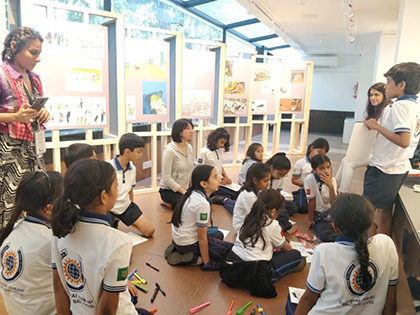 Each student was engrossed in the activity and they came up with some interesting narratives and character sketches, which they individually presented to the rest of the group.
Yasmeen wound up the session with another story from her yet to be published book.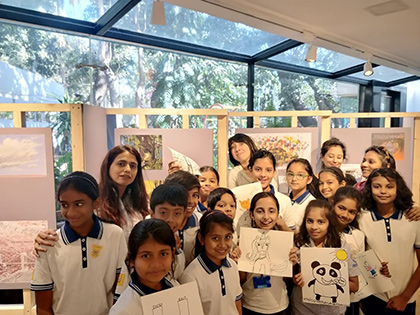 The children were intrigued to see the exhibits and meet one of the artists in person. They got a good understanding of how picture book characters are created, and how the illustrations aren't mere decorations to the text, but in fact they enhance the story and connect the associated emotions.
The exhibits introduced our children to the love for art. Art helps them to link concepts with words.