Primary Music Competition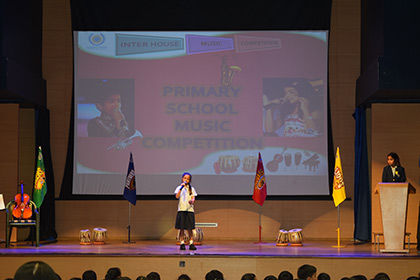 Music, which is the soul of our school, came to life at the annual Inter-house Music Competition of the Primary section. The music department of the school raises its bar every year, as students put up a magnificent performance at the competition- and this year was no different! The students' musical talent came to the fore, as they rendered Indian and western tunes confidently and melodiously.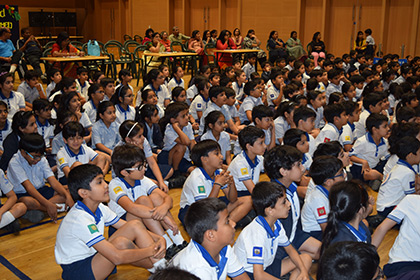 There were participants from each house, which were selected after several rounds of auditions. The competition was divided into 2 categories-Indian Music and Western Music. The participants were scored on choice of song, melody, pitch, rhythm, expression and overall impact.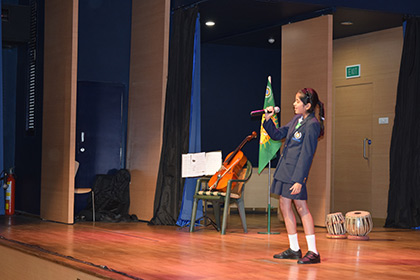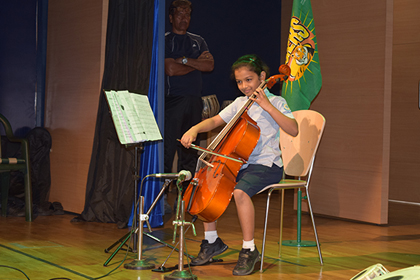 The audience was enthralled with each rendition, and each student in the crowd hoped that their house would be victorious. The judges of the competition were our own talented teachers from across the school. All our young maestros who took part in the competition, were well appreciated by the judges and each one's unique style made the competition a great success. While the judges were finalizing the winners, some of our talented students staged a 'tabla' recital and a cello recital. The event was hosted confidently by our Cub-captains and the whole atmosphere of the school became melodious and musical that afternoon.
The Verdict of our judges was:
1st Place- Panther House
2nd Place- Lion House
3rd Place- Tiger House
4th Place- Jaguar House