National Curriculum Visit to the NCPA - September 16, 2019
Chick Corea has rightly said, "The sound of the orchestra is one of the most magnificent musical sounds that has ever existed."
Students from Class 5 to 10 visited the National Centre of Performing Arts to attend an open rehearsal of the Symphony of India Orchestral Concerts.
The SOI, based at the NCPA in Mumbai, is India's first and only professional orchestra.
The open rehearsal was conducted by their Associate Music Director, Maestro Zane Dalal, focusing on the music of Richard Wagner, a German composer best known for his operas.
The session started with a brief introduction of the musicians who belonged to 26 different countries. This was followed by an introduction to the sounds of various instruments, which were divided into different categories.
The String section comprised of the Double Bass, Cello, Violin, Viola and the Harp. The Woodwind section had the Bassoons, Contra Bassoon, Clarinets, Oboes, Piccolo and Concert Flute. The Brass Section comprised of the Trombones, Trumpets, French Horns and Tuba and the Drum section included the Timpani, Snare, Tambourine, Triangle and Concert Hand Cymbals.
The students were very excited to see and listen to a variety of musical instruments and they were eagerly waiting to listen to the orchestra playing together. The orchestra then performed two pieces composed by Richard Wagner; the Bridal Chorus from the 1850 Opera 'Lohengrin' and 'The Ride of the Valkyries' from the 1870 Opera 'Die Walküre'.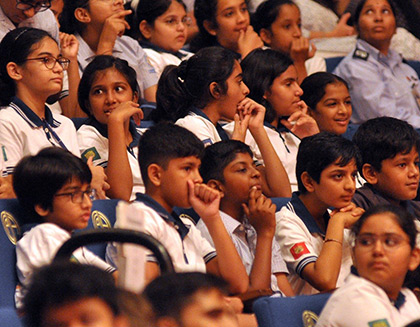 The orchestra captured the attention of our students, who were delighted to witness the large group of musicians, each playing a different instrument and producing such mellifluous music. At the end of the session, our students experienced another moment of joy, as the musicians walked into the audience along with their instruments. They played for the students and even gave them a chance to try their hands at the instruments.
Maestro Zane Dalal imparted a very valuable lesson to the students that the strength and beauty of an orchestra lies in their differences. Each instrument is unique and different from the other, but when they all come together, what they create is MAGICAL!
Apart from having a mesmerizing musical experience, the students learnt an important lesson; there is no real knowledge of anything but similarities (ultimately identities): knowledge of differences is merely a transition to a new knowledge of similarities.