Ms. Suhani Jalota, 23, is the Founder and CEO of a women's health organization, Myna Mahila Foundation, based in Mumbai. Working tirelessly to empower women and to bring equal access to health care services for all, Myna Mahila's initiatives range from conducting research in rural communities, to designing strategies to promote adolescent girl health.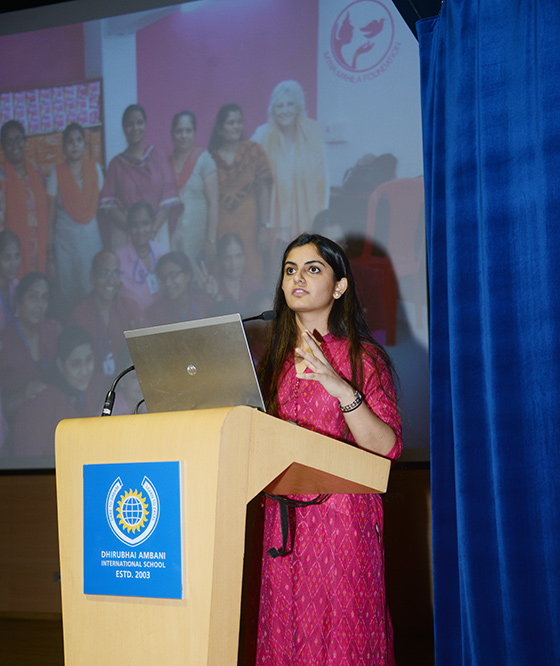 For the incredible work of the Myna Mahila foundation, Ms. Jalota is on the 2018 Asian Forbes 30 under 30 list for social entrepreneurs, and was one of the 2017 Queen's Young Leaders, representing India to receive the award from her Majesty herself. Ms. Jalota's work with Myna has been featured in TIME Magazine, Huffington Post, and BBC, among others. In fact, the Myna Mahila Foundation, was recently nominated by the royal couple, Meghan Markle and Prince Harry, as one seven charities chosen to receive donations in lieu of wedding gifts.
Ms. Jalota's success story resonated strongly with the DAIS students, not only because she is a DAIS alumnus, but also because she pursued a passion she discovered through the International Baccalaureate (IB). Fascinatingly, it was Ms. Jalota's keen interest on exploring Dharavi, one of Asia's largest slums, for her IB extended essay, that ignited a spark of curiosity within her, pushing her to investigate the effects of poverty on health. Ms. Jalota then attended Duke University, where, as a part of her economics thesis she examined the effect of slum redevelopment on child health outcomes such as stunting. She was the Commencement Speaker at the Global Health Graduation Ceremony and has won and participated in several social entrepreneurship competitions, such as the mHealth@Duke Shark Tank competition, the STEAM Challenge, the Hult Prize Competition, and the Mass Accelerator Challenge. Most recently, Ms. Jalota was involved in evaluation projects with IDinsight, an independent research organization, UNICEF and Department of Education in the Philippines for sanitation programs. In the fall of 2018, Ms. Jalota will pursue her PhD in Health Policy and Economics at Stanford University.
Her initial research allowed Ms. Jalota to explore the intriguing link between "toilets and freedom." "How can a woman who takes medication in order to suppress defecation in fear of being molested, ever be expected to prioritize her own health? How can someone who is told repeatedly that menstruation makes her impure, so much so that she is embarrassed to even discuss menstrual hygiene, ever be expected to feel proud to be a woman?" In posing these questions, Ms. Jalota illuminated the link between lavatories and liberation, establishing the rationale behind the Myna Mahila foundation's choice to tackle health, sanitation, and hygiene related issues. She revealed the stigmatization of such basic biological occurrences, such as menstruation, that prevail in these impoverished societies, pointing out how starting a discussion about something like a pad, can be a gateway to discussing complex issues such as sexual harassment. Her story is the perfect example of how individual action accumulates to push society towards a larger goal; how small steps can spark social change, to create a more equal tomorrow for Indian women.