El Viaje de Nuestra Vida – The Journey of Our Lives
6th March, 2015: Ms. Nitika Gupta and Ms. Swarnalatha Potukuchi jostled a bunch of 19 students from Year 11 to the check-in counter at T2, at the outset of the annual DAIS' "intercambio", or exchange program, with the SEK school in Madrid, Spain. We had hosted the Spanish student last November, and we were to stay with our hosts' families for a week during our stay in Spain. Since all 19 of us were students of Spanish, this was primarily an educational trip, and hence Ms. Nitika made us speak Spanish when talking throughout the trip by giving us a "multa", i.e. a negative point, every time we spoke in English. Each "multa" was worth 2 euros (per word), so most of us are now in debt.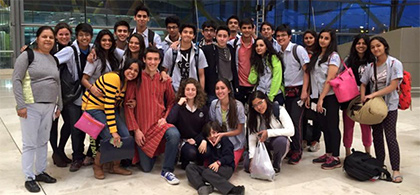 At the airport in Madrid, before departure
The school that hosted us was called SEK Ciudalcampo. It was located in the suburbs of Madrid, but had students from both the city and surrounding areas. It's campus was much bigger than ours, and had several facilities that we were surprised to see in a school. Apart from several tennis, basketball and volleyball courts, as well as an indoor swimming poor, they had an observatory! After a weekend of travelling all over the city and shopping with our host families, we began our sightseeing tours with our teachers. Our favourite outing was to the Museo del Prado, a world-famous art museum in the city-centre. Replete with art by both Hispanic and Non-Hispanic artists, the museum had a wide variety of paintings and statues from varied time periods. Another great experience was our trip to San Lorenzo de El Escorial, a outside of Madrid where we visited El Escorial, a vast building constituted of a monastery, a library, a school, a museum and a pantheon. The cathedral in El Escorial was easily one of the most beautiful cathedrals we have ever seen, and it's image is something that will stay with us for a long time to come.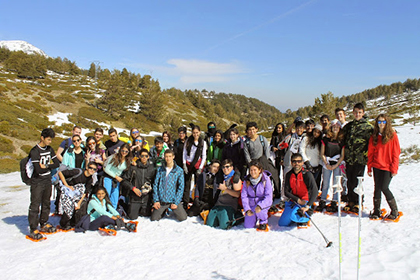 Touring Madrid
We also visited Plaza Mayor, the central plaza of Madrid, where we got to try traditional Spanish dishes and desserts such as paella and churros, whilst sitting in cafes lined up on the sides of the plaza. After two days of sightseeing in Madrid, we spent a day trekking up a snow covered hillside, as a part of our action component for CAS. We returned sweaty and exhausted, but the view from the top and the hot chocolate that awaited us below was worth every minute of it.

On our last day in Spain, we attended a school assembly at SEK, where we made a presentation to their students and faculty about India (in Spanish, of course), and performed a traditional and a Bollywood dance. Apart from a few linguistic glitches, the event went off without a hitch (We even handed out kaaju katli to the audience, and were handed back a dabba that had been licked clean). We attended sports lessons for the rest of the day, until their school day finished and it was time for us to leave.
our good-byes weren't teary. We had spent a thoroughly enjoyable and rewarding week with wonderful families, experienced Spanish culture and the language first hand, and were returning home with a bagful of Spanish goodies and a truckload of unforgettable memories. The post-trip reminiscent photographs would all go up in good time, and our Indo-Spanish Whatsapp group will clog our notifications less and less. But our school's annual tradition with SEK will continue, and our memories and friendships made in Spain will never fade.