Indo – Spanish Exchange 2013- Un recuerdo inolvidable
Hola! ?que tal?
Spanish is one of the foreign languages our school's IB diploma programme offers and is a truly enjoyable subject and culture to learn about. Our school has given us an opportunity to further engage in the Spanish language and culture programme by encouraging us to participate in a cultural and lingual exchange with students of the SEK international school in Madrid. These students also study under the IB diploma program and this is the third year that our school has successfully engaged in this exchange. In this programme, each student is assigned to an exchange student about one month prior to their visit to India. When the Spanish students came to India, it was extremely interesting to see how their stereotypes about Indians and their life and culture were challenged and this changed into a more realistic one by the end of the programme.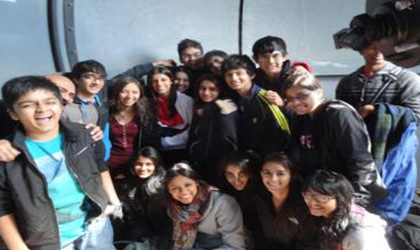 When the Spanish students visited us in November '12, they visited the village our school has adopted (Hassachipati) and participated in service activities; it also gave them a taste of India's rural lifestyle. We hosted them in our homes for 5 days and through this process, we honed our hospitality skills as well as learnt to cook Indian food without spice! The students of SEK gained knowledge of the divide between the rich and the poor, city life and rural life which portrayed one of the greatest problems in India- political issues along with poor distribution of income. Furthermore, our school's service programme provided them with a platform to help empower rural India.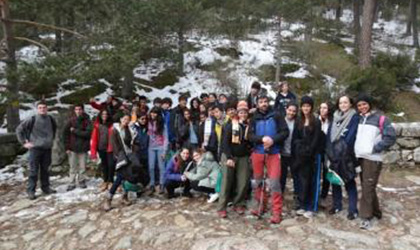 The experience in Madrid was not only a linguistic exchange, but also gave us insight into their culture from their cuisine to basic mannerisms.They too were intrigued by our country's Bollywood dance style (and were extremely keen on learning some steps themselves!) Each family accepted our students with a warm hug and two pecks on the cheeks (a tradition we learned about). This typical warm hearted and cheery mentality is common to the host families of both countries and it truly felt like home in Madrid.
At the same time, the families encouraged us to learn Spanish, introduced us to all the unique traditions of Spain and took us around the city in spite of their hectic lifestyles. Every moment in Madrid provided us with a great opportunity to enhance our Spanish skills and exercise them in conversations with locals. Even reading sign boards and understanding basic instructions in only Spanish for 8 days proved to be a remarkable learning experience for us.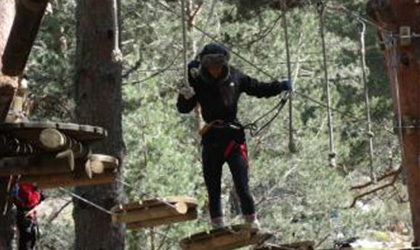 The school took us to a place called Cercedilla - a beautiful mountainous region just a few hours from Madrid. It was a wonderful experience especially since a great metropolitan city like Madrid has a completely different side to it. The activities planned included trekking and going to an adventurous place called "Amazonia." Although we were there for only two days, we fully enjoyed the break from the fast moving nature of the city.
If this experience sounds even remotely as extraordinary as it was, I'm sure you would want to be part of it as well and in that case, as the Spanish say "buen viaje y pasalo bomba!"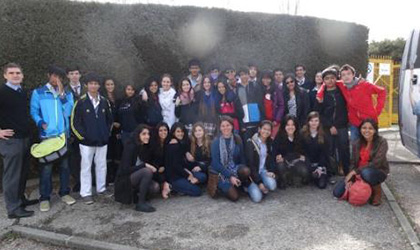 The Metamorphosis: from a trip to a community programme
Indo - Spanish Exchange Visit to India
27th November – 4th November 2012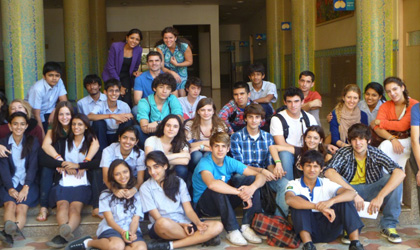 Since 2010, the DAIS students have been visiting SEK Ciudalcampo School, Madrid and their Spanish friends, in turn, were warmly welcomed in Mumbai. However, these visits had Educational and Cultural aims, namely, the IB philosophy of international mindedness and intercultural understanding. This year saw a welcome metamorphosis when the two schools decided to extend their understanding of the way the underprivileged live in these countries. For the first time this year, a delegation of 16 students and 2 teachers from SEK Ciudalcampo School, Madrid came to DAIS as a part of the first Indo - Spanish Exchange Programme in which the Spanish students, hosted by Indian families, were given an opportunity to participate in a range of CAS activities.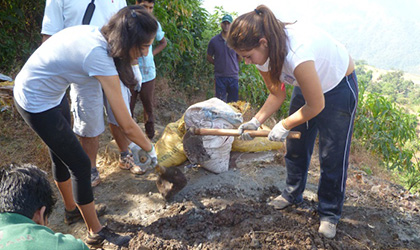 16 Spanish students, 7 Indian students, 2 Spanish School Teachers and 2 DAIS teachers (Nitika Gupta + Yassir Choonawala) went to Matheran (27th Nov – 29th Nov 2012) and worked on the Hassachipatti Village Development project.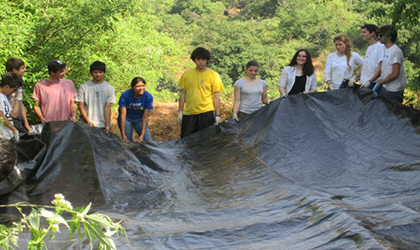 They were involved in building the village path, repairing the rain water harvesting pit and making the Computer lab operational. After their day-long tiring work, the students were treated with a Indian Magic show.
Apart from working on these infrastructure facilities at Hassachipatti, the Spanish delegates and some Indian students interacted with the Akanksha students who study at DAIS. Akanksha is a NGO which works with the children from low-income communities.

It provides an after-school support to such children through its centers. It has its own curriculum that focuses on three main areas: math, values, and language (English). In their interaction with these children, the Spanish students taught some basis sentences in Spanish to them and the Akanksha Students, in turn, taught them a few Hindi phrases.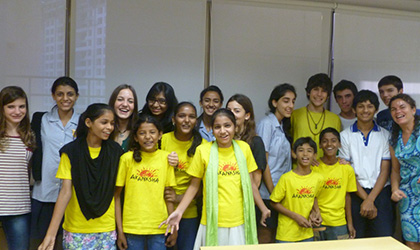 Various cultural activities were also planned to ensure that the Spanish delegates became acquainted with some aspects of the rich Indian culture. Mr. Sreeraman and Ms. Nandini conducted Kathakali and Bharatnatyam Classical Dance sessions for the Spanish guests. They also had the opportunity to sample a typical Rajasthani Thali Restaurant where all the dishes included the authentic taste of Indian food. For an authentic Mumbai feel, The Spanish students were taken on a Mumbai Tour where they visited various places of interest.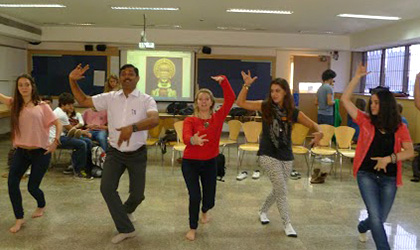 The Community Programme ended fittingly with the decision of sending 18 DAIS students and 2 teachers to SEK Ciudalcampo School Madrid, in March (13th to 21st March 2013) for engaging in similar community programmes there.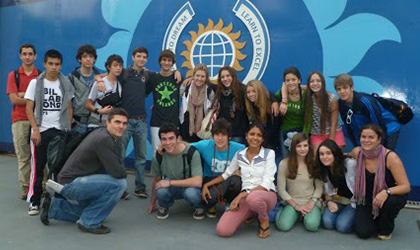 Blog:
Ms. Nitika Gupta and 2 Spanish teachers have created a blog casexchange.blogspot.com.es. This will help students interchange ideas and information about various aspects of the culture of both countries.
Nitika Gupta