Indo-Spanish Exchange – The Journey of A Lifetime
The Indo-Spanish Cultural exchange was truly a perfect representation of what we call an opportunity of a lifetime. But before we reminisce, we would, on behalf of the whole group, like to thank the school, the heads, and most importantly, our Spanish teacher, Ms. Nitika Gupta, without whom this cultural exchange would have never been possible. The exchange is now in its 5th year and it gives Year 11 IB students a first-hand opportunity to witness Spanish culture and lifestyle.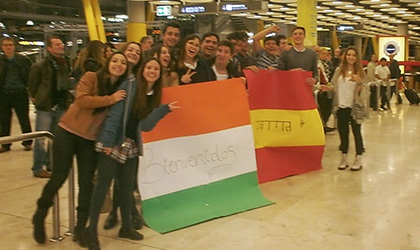 Spanish students welcoming Indian students at Madrid Airport
The trip to Madrid this year was an exhilarating and unique opportunity. After 3 months of separation, we were all greeted at Madrid's Barajas airport by a deluge of hugs and kisses, after which we were eagerly escorted off to our respective host family's homes. So began our wondrous nine-day adventure in Spain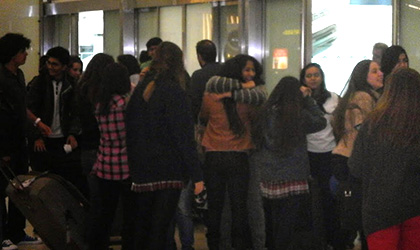 Hugs and greetings all around on arrival

The following days were a blur to say the least. After a day of adventure activities near Madrid, we spent the next two days trekking in the snow at a nature reserve, near a beautiful town called Cercedilla. We also spent an evening in the town to play a team game which gave us a fantastic opportunity to explore town life and interact with its inhabitants.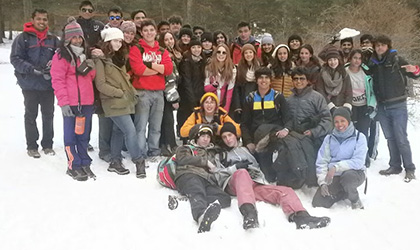 Students during trek in Nature Reserve near Cercedilla
The day after we went on an excursion to Segovia, a breathtakingly beautiful city just north of Madrid, famous for its first-century Roman aqueduct. We took a walk through the city, visiting its major attractions. The sanctity and purity of the city and its life just blew us all away.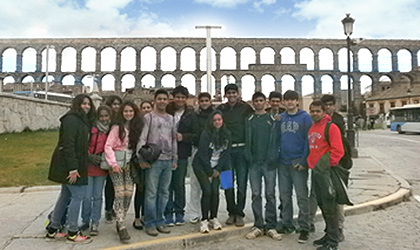 Indian students on their excursion to Segovia
The weekend was spent with our respective host families. On Saturday night, all the boys and their hosts, went to the Real Madrid game at the Estadio Santiago Bernabeu. We thoroughly enjoyed the match as Real Madrid ran out 5-0 winners. After all, it's not every day we get to see Ronaldo and Bale score right in front of our very eyes!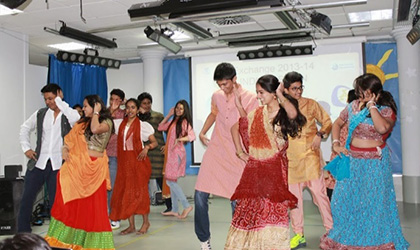 Bollywood dance by Indian students


Our Monday was spent in school, where the Indian and Spanish students put up presentations about India and the exchange. This was followed by Indian classical and Bollywood dances for the Spanish students by us. There was then a Spanish and Indian food demonstration, a sports session and finally attending class with our respective hosts. The day was eventful because we learned so much about Spanish culture.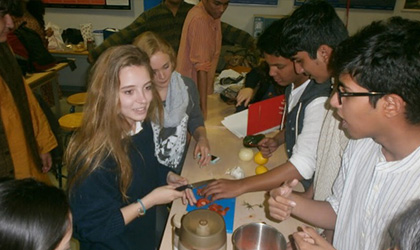 Food demonstration session

On our final day in Madrid, we were allowed into the old Senate in Madrid for the inauguration ceremony of SEKMUN, and later lunched and spent the afternoon in Gran Via, one of the main shopping districts in Madrid.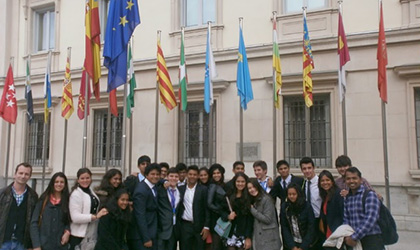 Indian students at the Old Senate in Madrid for inauguration of SEKMUN


Soon enough, it was already time for us to go home, and it had come faster than any of us had imagined or wanted. Of course, by the end of the day, we were packed and ready to go, but none of us wanted to leave. We had forged a bond truly transcendent of any cultural barrier with our hosts. In fact, we could not even fathom how close we had become in such a short time, until we were told at the airport by many host parents, who said, "We are so glad to have an Indian child now."
Watching our friends from Madrid leave for home was tough on all of us, but we knew that we would see them again. However, come April 1st, after the nine best days of our teenage lives, the inevitable goodbye hit us all harder than we expected. In the end, what culture or country we were from, what language we primarily spoke, never really mattered. We realized that even though our countries were more than 5000 miles apart, we were very similar people.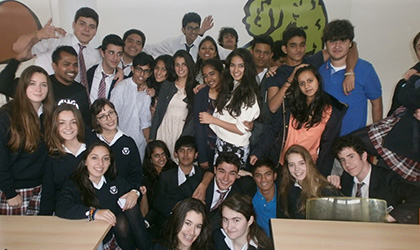 Indian and Spanish students at SEK-Ciudalcampo
We might have physically left each other's homes but we surely left a part of ourselves behind. Goodbyes could never suffice, and so we all spoke in tears, hugs and a simple promise to see each other again. And we plan to keep that promise. The Indo-Spanish Cultural Exchange Trip promises to give you friendships and memories to last a lifetime. It certainly did for us.
Rishabh Shah and Arjun Sabnis
Year 11


14 days, 2 weeks and 1 experience of a lifetime!
14 days was all it took our Spanish guests to create a permanent place in our lives. 'Guests', we say in India, are equal to God but these students shared more warmth and became family. We remember leaving for the airport at the unearthly hour of 3 am and waiting there, exhausted and sleepy, for the plane to land. It was a long wait till we finally saw the sea of colour drifting to the exit gate. There was a sudden burst of excitement as guests saw hosts and strangers became friends.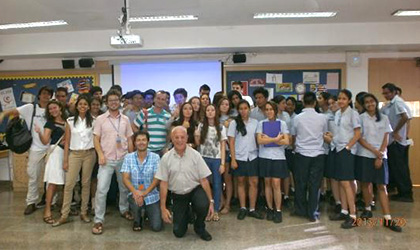 Life's funny. Just 12 days ago we were all waiting to know who you were, and now we can't imagine how we ever spent our lives without you. I'm going to remember this exchange forever. You left too soon. Don't forget us. Love you guys.
--- Arjun Sabnis

After our guests arrived and we spent the night catching up and not sleeping, we were welcomed to school with the announcement that we would have to attend classes while the Spanish students went on a tour of Mumbai. The tour was an enriching experience that allowed the students to see historical attractions like the 'Gateway of India' and 'Ajanta and Ellora' while relaxing in a bus. It was tiring as they had to walk in Mumbai's humid and sweltering conditions that we claim are 'winter temperatures'. They returned from the trip and met up with us for a presentation by two famous Mexican artists, who were touring India for a contemporary art exhibition. The Spanish students willingly interacted with the artists, speaking in rapid Spanish and confusing us completely. Since the presentation was in Spanish, it allowed us to improve our Spanish and allowed the Spanish students to catch up on their much required sleep.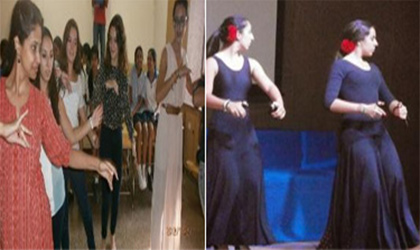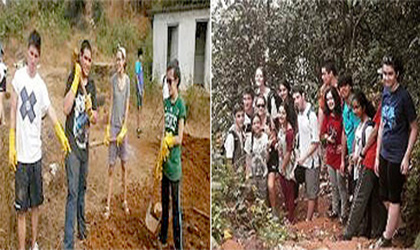 For a week, the students observed our daily life and tried to adjust theirs in India. The school organised a dinner which allowed us to meet all the students, socialize and engage in other discussions, much to the dismay of the restaurant staff and supervising teachers. The succeeding week commenced with a trip to an amusement park where we saw 'I India', a show that allowed the exchange students to view all the major highlights of India in a few minutes.
Then we went to Hasachipatti in Matheran to work in Village Empowerment Project. It was a challenging day as we mixed cement to build a road under the glaring sun, threatened by occasional passing monkeys. After lunch we descended to the village and played with the children there. It was a new experience for those students as they had never seen a village and they thoroughly enjoyed playing with the new-born puppy and drinking the village tea. The walk uphill from the village called for slow progress but we successfully reached the top, even stopping to take a few pictures on the way (this was not resting). The Spanish students then travelled to Patalganga where, as recounted by them, they enjoyed making bricks and playing and taking photographs with the children. We then took them to numerous street shops and mithai shops to allow them to return home with a piece of our 'sweet' culture.
12 nights ago we were complaining about the extra hours we had to stay and wait for you guys to come. 12 nights later, we are ready to do anything to make you guys stay even for a minute more. You all left too early. I love you, guys
-- Rishabh Shah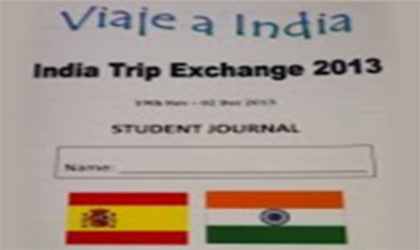 Now, the only thing remaining is the treasure trove of memories that they have left behind: the expression of utter fascination on their faces as cows strolled down the Mumbai streets, their red, teary faces after they took a bite of the food, claiming that it was the spiciest thing they had ever eaten, finally, their fear-stricken expressions as they braved the Mumbai potholes in an auto or 'aaootho' as they called it.
I can't believe you guys have left. It's like you were with me all my life. Thanks for being the best 15 exchange students I could ever ask for. Love you all and going to miss you all.- Yash Kamat