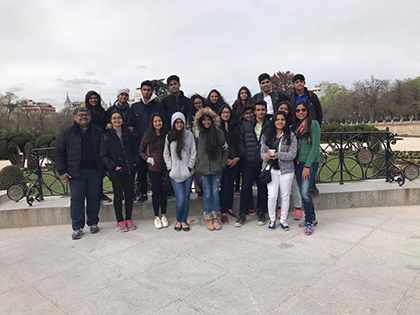 The students of the Dhirubhai Ambani international School hosted Spanish students from the SEK international School in Madrid from 23th November to 4th December, as part of the intercultural Spanish Exchange Program offered by our school.
As with every year, all of us hosts were so excited to meet the Spanish kids that we established communication with our Spanish guests through text messaging as soon as we were told who we would be hosting. Once they were here, they had almost no time to get bored because of the numerous activities planned by our school like Mumbai Darshan (tour of Mumbai), a visit to the Elefanta Caves and a visit to the village Kumbarghar, which our school has taken up for development, as well as all the gatherings planned by the enthusiastic students and their families. For example, on the first day itself we took all of them to a mall and subsequently gave them a lot of opportunities to spend time with the students and their families as well as with each other. The interesting thing about all the gatherings was that the guests had the opportunity to interact not only with their specific hosts but with all the other hosts as well.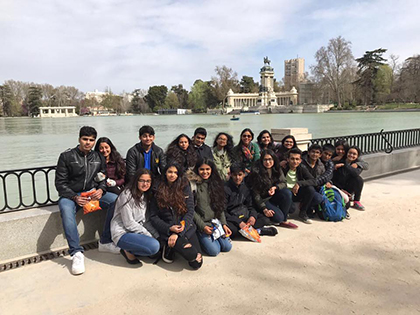 However, the contribution was not at all one-sided in the sense that as we exposed the Spanish students to our own culture, they, in turn, let us experience a bit of theirs. From teaching us Spanish slang words to teaching us Spanish songs to sharing with us their traditional sweets "turrones" and "polvorones", the Spanish kids had as much of an influence on us as we had on them. They also showed us an interesting and humorous presentation talking about their culture and the various aspects of Spain that make it popular, like food, dance, sports etc.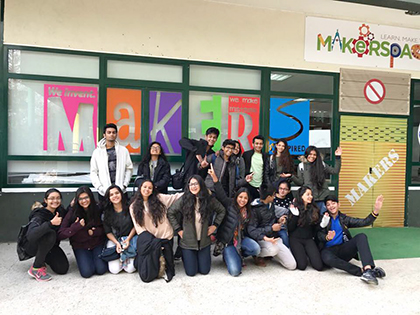 Not a single day went by where there was nothing to do as the school and the students gave their all to keeping the Spanish students entertained, and because of this the days flew by so quickly that none of us could believe that the last day of their visit had arrived, and we didn't want to part. The visit to the airport was a heart breaking one as we finally had to say goodbye to "los chicos españoles" whom we had grown so close to
The program, as a whole, was extremely enjoyable for us as well as the Spanish students and served as a welcome relief from our hectic lives and also served as an opportunity to make new close friends, as most of us maintained communication with our guests even once they left. Needless to say, none of us could wait to go to Spain for the second half of the exchange program, and be reunited with our amigos.