Kiara Bose Roy Receives Little Free Library's Award for Outstanding Achievement
Grade 12 student, Kiara Bose Roy established Mumbai's first Little Free Library book-sharing box at age 12.
Hudson, WI (May 18, 2020) – The Little Free Library (LFL) nonprofit organization was pleased to present Kiara Bose Roy with the 2020 Todd H. Bol Award for Outstanding Achievement. This award honors extraordinary individuals who embody LFL's mission to inspire a love of reading and build community.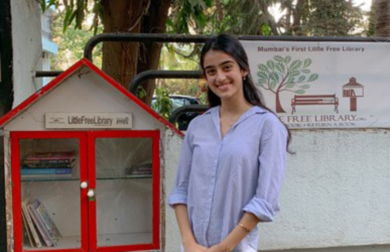 "It is a privilege to recognize Kiara Bose Roy as one of this year's winners of the Todd H. Bol Award for Outstanding Achievement," said LFL Executive Director Greig Metzger. "Her volunteer efforts exemplify the vision of the late founder of Little Free Library, Todd Bol, to engage communities and enrich lives through the power of shared books. Through her effort, Kiara has made her community a better place to be."
Kiara Bose Roy started the first Little Free Library book-sharing box in Mumbai when she was just 12 years old as a way to share her love of reading and provide equitable book access.
"I live in the metropolitan city of Mumbai in India, where a lot of us are lucky enough to have access to an abundance of books and libraries. But a lot of children who live in my city don't share that privilege," Roy said. "I'm now almost 18, but I had always been very sensitive to the socioeconomic disparity that I saw in my community. It thought it unfair that those children who play on the same street as me couldn't enjoy the lovely books I could. This was most definitely my biggest motivation in starting a Little Free Library."
Kiara continues to see her little library provide a valuable service in her city and has inspired more libraries to spring up.