Class IV B visits the Byramjee Jeejerbhoy Home for Children
"The best way to find yourself is to lose yourself in the service of others." – Mahatma Gandhi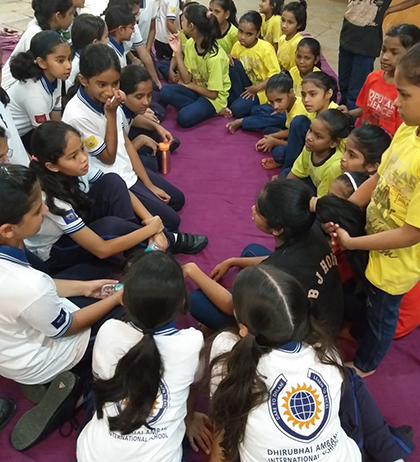 Engaging in community service provides students with the opportunity to become active members of their community and it has a lasting and positive impact on society at large. It enables students to acquire life skills.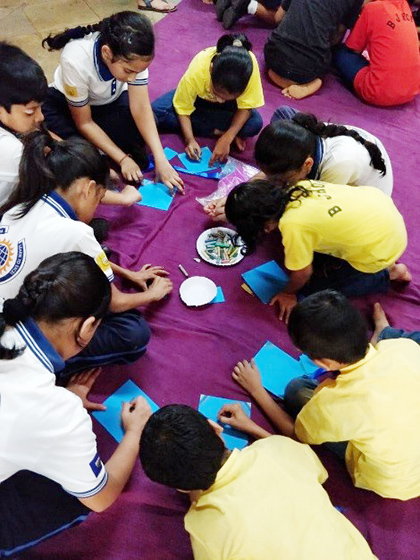 We as a school, strongly believe in these words and thus every year our children our engaged in acts of kindness.
This year Class 4 B visited the B.J.Home for children in Matunga and celebrated Diwali with the under privileged and orphaned children there.
When we arrived at the B.J.Home, students and teachers exchanged greetings with the staff and the inmates of Home. We were first taken on a tour around the Home, peeking into the dormitories, kitchen, study area, toy room, computer room, medical room etc.
We then assembled in their multi-purpose hall and engaged in art activities along with the children from B.J.Home. Together they made colourful Diwali garlands (torans) with which they decorated the hall.
Next our students sang songs and entertained everyone. The singing session was followed by some breath taking performances by their children. All the children mingled amicably with each other and brightened up the morning with their cheerful faces and actions. Boys of both schools made teams and played a friendly football match thereafter.
The visit was a totally engaging and enriching experience for one and all.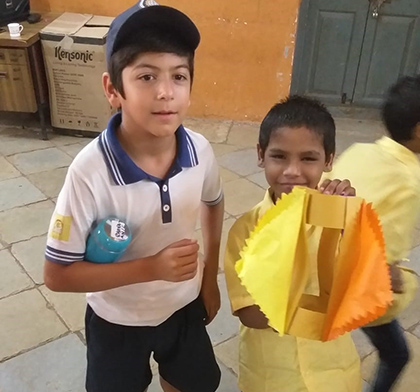 While involved in community service projects, students develop real-world skills like: leadership, problem-solving, collaboration, time management and communication that will help them succeed in school and beyond.
Most importantly, through these visits, students learn that the work they do can make an impact on someone else in need. Children also develop a richer perspective of the world they live in.
To end it in our students' words – "We feel, the learning from these visits is to value what we have and to help those who do not!"